Books to awaken you and your small group!
The Lost Supper (on Amazon)
Restoring Communion's power to guide us through the storms of life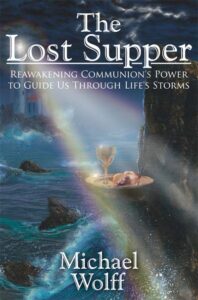 Ever wonder why there never seems to be the right setting to confess your deepest troubles and fears in church settings? Always too many people and not enough intimacy or guidance? Does it feel right we should have to pay other Christians money to confess our sin? Truth is, God has provided a powerful ceremony to find true emotional healing within the body. Communion…that's right Communion, is His ultimate gift for rooting out sin-addictions that are paralyzing the faithful. Yet, through improper, irreverent practice, as with so many instances in the church today we've neutered its power to heal and transform. As Paul promised, the result has been too many "weak, sick, and spiritually asleep" among the faithful. But the power is still there for us, and we can reconnect with it! Make your small group a powerful place of confession, prayer, and healing through the ceremony God gave specifically for that. Read The Lost Supper, and find out why Paul said Communion literally contained the power of life and death.
Praying Today's Psalms (on Amazon)
A New Covenant approach to an ancient discipline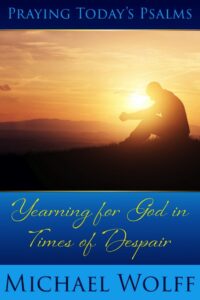 Does your prayer life leave you wanting? Most men's do. Mike called his prayer disease "Mindusconstantwanderitis," starting with all good intentions but then dissolving into total loss of focus and any feeling of connection with God. But then he found in the Psalms a powerful, focused and connecting way to pray God's own words. Romans 8 says we do not know how to pray as we should, but the Spirit can intercede on our behalf because He searches both the hearts of men and the mind of God. The Psalms is the only book of the Bible that actually invites us into an intimate relationship between a flawed man and God, and we can now join them! Praying the Psalms is an ancient spiritual practice that has been lost today, due partially to difficulty with their Old Covenant concepts that run counter to the new covenant. Mike removes those stumbling blocks by Newtestamentizing the Psalms. A favorite discipline of ascetics around the world, praying the Psalms ignites passion, restores focus and reverence, and establishes integrity and intimacy with the God who loves us. In this first volume of 47 Psalms, Mike includes the Psalms to pray, a short devotional containing his thoughts, and space for you to journal yours.
The Kingdom Election
(Coming Soon!)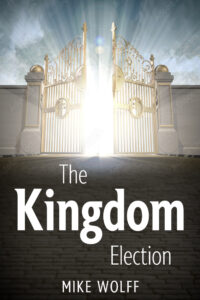 Are former, comfortable, "Christian" paradigms no longer fulfilling you? Do you have trouble finding peace in a world filled with chaos? Would you be willing to check out an entirely new way of thinking that holds the answers to these questions and more? Since John the Baptist came proclaiming "Repent for the kingdom of heaven is at hand" everything has changed! It's just most don't truly understand what those words mean. The truth is, there are two totally separate and opposed kingdoms here on earth vying for our citizenship. One we are born into that Satan seeks to keep us blindly ignorant of, and the other one a kingdom God desires for us we must be "born again" into. Much more than most think possible of heaven's experience exists right here, right now in the kingdom of heaven on earth. "Seek first His kingdom" is not mere hyperbole, for since Jesus brought it a new reality—a literal kingdom of heaven on earth He embodied—was born! He said if we embrace that kingdom as our top priority everything else would line up. If you read this book, you will come to understand it. I now live to bring others out of the kingdom of man and into God's kingdom though sharing my journey. If I found it, so can you. Open your mind and your heart and let your election process begin today!